Stirrups – product review
As I have already promised – I have added a new post about stirrups.
I had the chance to test a lot of them so I will try to tell you about my experience referring to the models available on the market.
I prepared some links and pictures of many different products just to make it easier for you in case of a possible purchase.
As you already know, I focus on choosing the best possible equipment and it is not only the aesthetic or visual factors that count but the most important is its quality and price.
I think that we have the right to demand the best possible parameters from producers. That is why we will have a closer look on stirrups.
Well chosen stirrups are an essential part of the equipment needed. Among others they help you to maintain the balance and keep your legs in the right place which is extremely important in jumps or horse rides through a parkour. While selecting the best stirrups we should focus on its weight, width and performance characteristics. We will now have a look at some of the selected models! I will not describe the simple, metal ones with no name but we will talk about the ones you have asked me about in comments and messages.
Hopefully this post will also be helpful for you 🙂
Polyamide Prestige Stirrups – made of an artificial material.
Price – around 650 PLN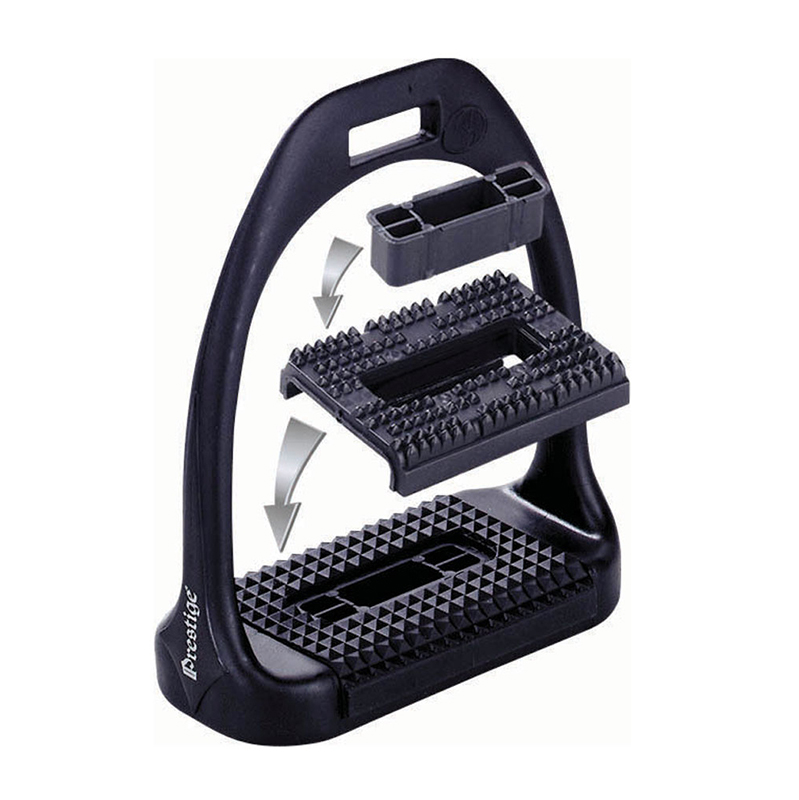 I have to say that they are really good stirrups. I have been using them myself, while riding as a child.  I wanted to mention them as they are very light and in when it comes to children using them – every 100 g makes a difference. This particular model has exchangeable inserts, which are easy enough to be removed but in comparison to the others they wipe off quite a lot. There are winter and summer inserts available and you can also buy them on the internet as they are all in the same size and the is no risk that they will not fit.  If we take usage into consideration – they are quite easy to clean and scratch resistant.
http://www.mksklep.pl/prestige-strzemiona-a-30-silk-p-5400.html

Metal Prestige Stirrups
Price – around 850 PLN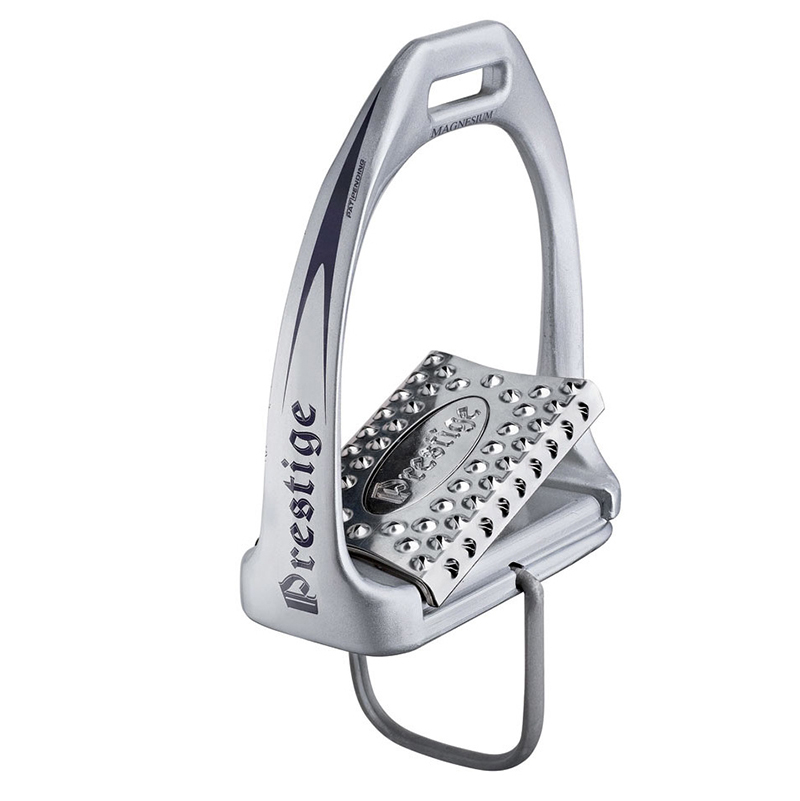 Here we have the choice of two colors : silver and black. I had the chance to use both and I have to say that they get scratched easily which is even more visible on the black ones. If I had to choose again I would definitely go for the silver one as there is less scratches visible on them. We can also exchange the inserts in those Metal Prestige Stirrups. We have a choice between the lighted and the heavier ones which prevent your fit from sliding ( which is very important). There are also quite easy to take off which would not bother anyone I suppose 🙂 They are made of a magnesium alloy so even though they are metal they are light enough. Generally it is a very good product.
http://www.mksklep.pl/prestige-strzemiona-a-31-magnesium-p-5399.html

JIN STRUP Stirrup
Price – between 420 PLN and 799 PLN ( they are on a promotion)
Here we can go crazy with all the colors as the producer gives us a choice of 15 different colors. We are able to match them with our clothes which is great in some cases. They are light and fit just perfectly. If we take wiping out into consideration – we can compare them to the ones described at first but unfortunately it is not possible to take off their inserts. It would be a good idea to just use them at competitions as they present perfectly 🙂 As they are on a promotion and cost only 429 PLN it would be a great idea to buy two pairs and surely you will also be able to negotiate another small discount 🙂 They stay as new for a long time because they do not get scratched.
I wore them on European Championship and also on competition in Lipsk.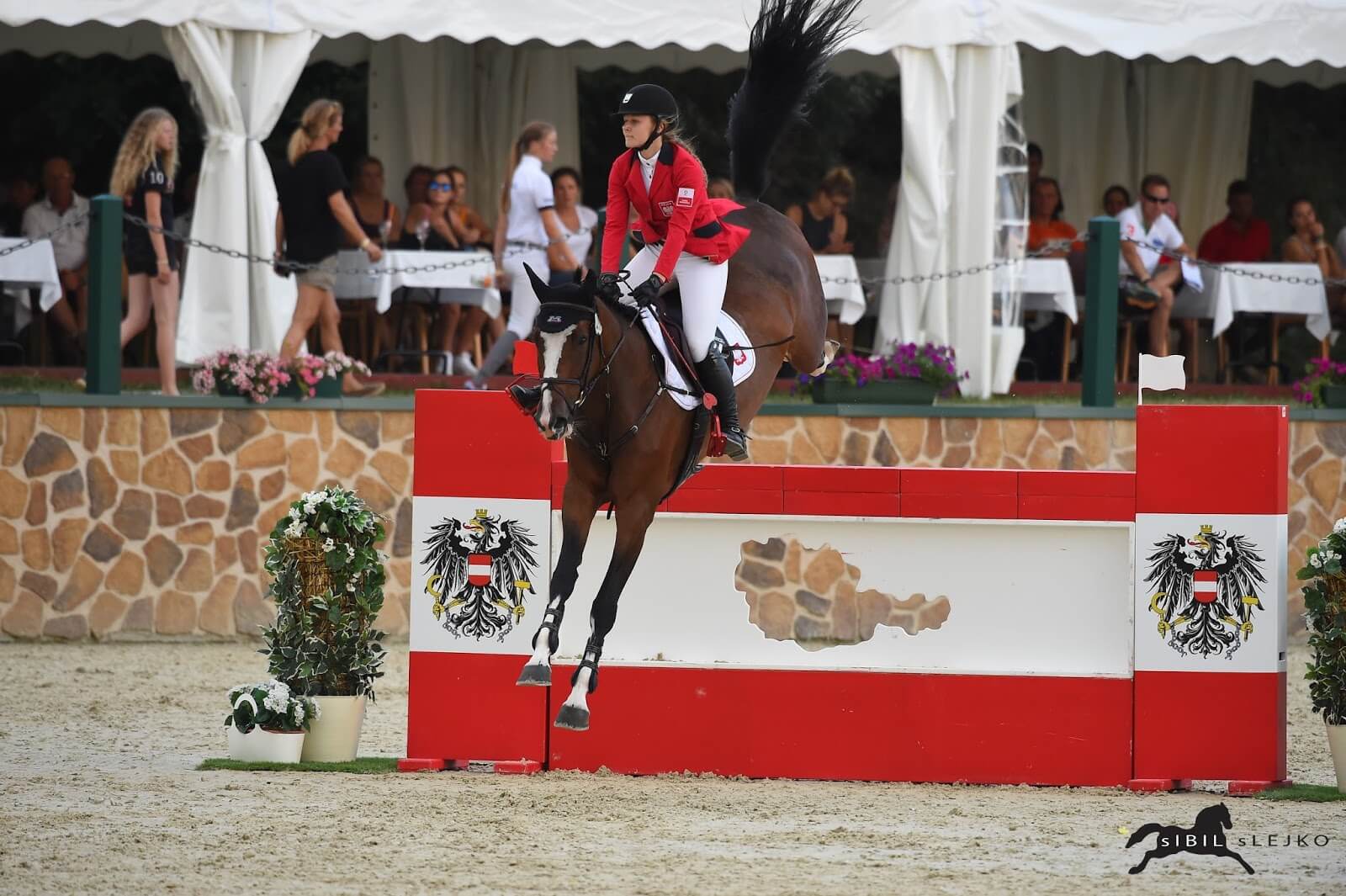 https://konik.com.pl/strzemiona-jin-stirrup-new-titanium
LORENZINI Stirrups
Price – around 890 euro
These stirrups I have been using for not so long and I am actually really happy with them 🙂 They hold your feet in a different way than the other ones (their shape is slightly different) but they are comfortable and give you a good prop. The stirrup's shape had been designed to relieve joints and knees. To be honest, I confess that while using them I do not feel as tired as I used to do. They are also not as heavy and so far I can say they do not get scratched.  ( I will keep my eyes on them and will let you know if anything happens to them) what is more, the spike is sharp enough so it stops your feet from sliding but we will see how it works in practice. Referring to inserts – they are changeable 🙂
https://www.febro.pl/product-pol-2272-Strzemiona-Lorenzini-Titanium-Jumping-z-tytanowa-stopka-brazowe.html
SPRENGER Stirrups
Price – around 790 PLN ( I found them in the price of 429 PLN as they are on a promotion )
I have been using them for a while and to be honest – the quality was not good enough for me. They were heavy and did not hold my feet in the right place. I would even say that they are designed more for men the for women 🙂 The only thing I could assure you of is that they are really durable! They will definitely last for a long time. If any of you have the experience of using them – please comment down below as I am curious about your opinion 🙂
OK. That will be it 🙂 If you have any further questions I am always at your disposal.
I am at Oko這, having a training with Mr. Wessibauer and do not really have an access to the Internet but will do my best to answer all your questions and comments 🙂
I will be back home on Sunday, will have to repack myself and on Tuesday we are going to Samorin – I really love their competitions and can not wait for them!
Of course there will be a lot of snaps and pictures so you are all welcome to watch my profile.
Best greetings 🙂
As always you will find me :
SNAPCHAT- DALIALITTLEM
INSTAGRAM- DALIA LEHMANN
GRUPA NA FB- EQUESTRIAN LIFESTYLE BY DALIA